Page 70
DarkChibiShadow on July 9, 2010
It's a little unclear but he punches Wasso in the second panel. NO NO WASSO CHILD NOOOOO!

IN OTHER NEWS, THE DRUNKDUCK AWARDS VOTING HAS STARTED.

MAYBE YOU GUYS WANT TO VOTE FOR A LITTLE WIRES 2 OR 3, PERAPHS MY GAY DEMON LAWYERS?

DO HO HO HO THEN CLICK HERE, OH YEAH!

Naw naw you don't gotta vote for my comics if you don't want to, but, I would really appreciate it if you did. This year has abeen a little slow for me, sorry! AND THANKS AGAIN FOR READING! MUCH LOVE!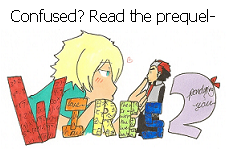 Donation/Comission Info.
For the set amount you get the set item, and you can request anything! Adult pictures will also be uncensored! (You could finally see Wasso's dick if you wanted!) Just PQ me or e-mail me at colinxzain@hotmail.com when you donate with your request and I will get it to you as fast as I can!
Regular Offers:
$1 - Pencil Sketch
$5 - Inked and Toned Picture
$10 - Full Color Picture
$30 and up- 10 Page manga of choice
Special Offers
50 Cents- A SWEET DRUNKDUCK ICON OF YOUR CHOICE
$7.45 - A Mini Comic
Negotiations are available, just talk to me.
Disregard if you don't care, I won't hold it against you.