Hey, I'm Mathew. You may have read my comic 'Crazy Duck' that was on here for about three years (chances are you didn't, but that's okay), or you might have glanced at my current comic 'My Friend, the Supehero'. If you haven't seen, read, or even heard of these comics, that's perfectly fine. You don't need any knowledge of them for what I'm looking for.
I am in need of someone who can..basicly..color. I'm starting a new comic (with the aim of submitting it to Viper Comics (
http://www.vipercomics.com/messages/topic.asp?TOPIC_ID=1518
) to be one of their new webcomics), and I would really like it to be in color. Sadly, I SUCK at coloring. In real life, I SUCK at coloring. And digitaly, I am not very savvy with coloring. I've tried using Flash, but I SUCK at outlining the original pencils (example:
http://www.drunkduck.com/My_Friend_The_Superhero/pages/bf41032edafd10a115e41f5a9ec42270.png
)
So (I think I've beat around the bush enough by now) if there's anyone out there who be interested in collabertating with me on a seven or more or so issue Mini Series in comic book format (with me as the artist and writer and you as the colorist) please do let me know.
If you're interested, I'd appreciate you coloring in this quick image I drew up today: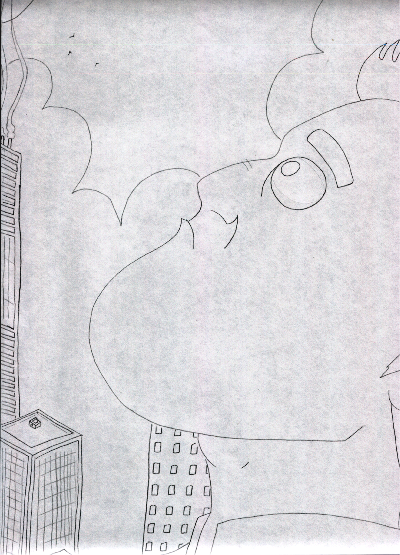 His suit's yellow, his hair's light brown, and he's caucasion. The rest of the colors are up to you -whether you want to make it mid-day or evening or morning or whatever is up to you, but depending on what you pick make sure the colors on the character reflect the background.
Also, if you have any other work you've colored you'd like to show me, that'd be just swell.
I'll leave submissions open until next Friday, and if I haven't found a suitable colorist by then..or no one replies to this, then I guess I'll just have to make it colorless or trying coloring myself again. At least by reading this you now have the link to the Viper Comics Forum…perhaps you'll submit your own comic now.
Thanks for you time and I'd appreciate any help I can get.
Sincerely,
-Me