Would you like to meet the characters in my life? I know you would. ;-) I rent a three story house with my brother and two friends (sometimes mentioned in my commentary). You want some pictures? You know you do.
First… My friend Gael. She has an account here at DD, just for reading and commenting. Gael is a book addict (very seriously) and likes artifacts and knick-knacks (known as the "pottery goddess" too) . She is getting her master's degree in anthropology. She keeps her *real* crossbow in her bathroom (yeah…). Her favorite pasttimes are teasing me ("goody two-shoes" and "dork" are her favorite terms of affection) and creeping me out. (Gael, take of the shades! I never know if you're looking at me!)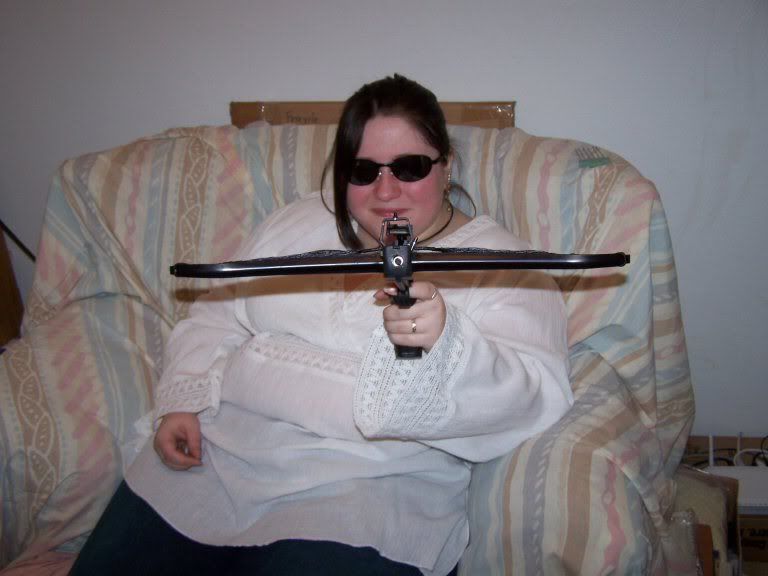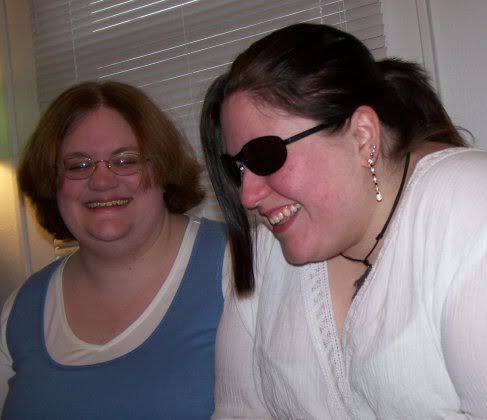 Now… There's Bethany. She got her master's degree in criminal justice. She enjoys reading children's books, annoying furry creatures, and ogling men in uniform. Bethany is also a "workaholic" and obsesses over studying and grades and everything else. We tease her, but she single-handedly manages our household budget and keeping all our records organized. She also is VERY annoying (sings and whistles and just gets under your skin) and is Gael's closest childhood friend (which was always odd to me). I keep thinking Gael will snap and bludgen her.
And Thomas. A fat (biggest cat in town), two year old orange tabby we adopted from the pound. He had been in the pound not once but twice. We don't know why anyone would send him back… He is just a GIANT kitten, loves to play, has an impressive imagination (he thinks a giant stuffed toy is his brother and will spend hours playing with hair scrunchies), and he eats flies.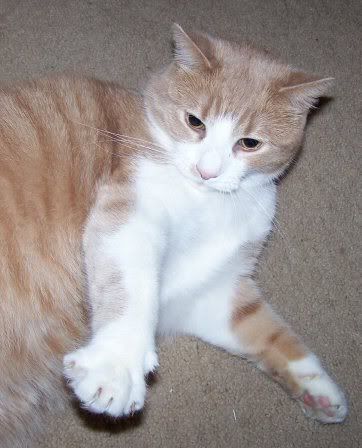 As for my brother (no picture), he is a talented humorist, writer, and game designer. He is getting his degree in Marketing. Dave makes a comic called
The Real N
. Check it out! Dave is very talented. (He gave me the title for Used Books and helps me brainstorm.)