Moe Maid Charm
~~~~~~~~~~~~~~~~
First:
Mold it. (Done)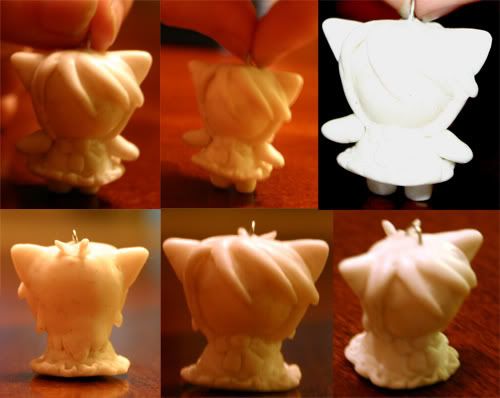 The Head, hair, body, ribbon, and limbs were all molded seperately and attached through the magic of clay being able to stick together. Oh and bits of wires for the limbs and head.
Second:
Bake it (Done)
30 min at 230 degrees
Third:
Paint it (my fingers are currently covered in paint)
I took pictures of it while still not completely painted. :3
My fingers hide white paint on them o: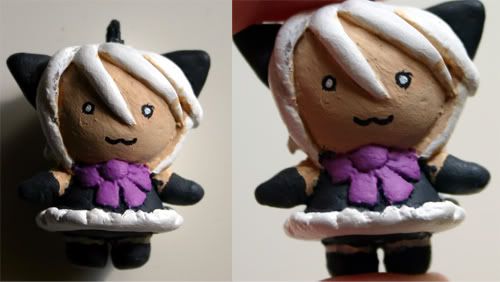 Process in order of how I did it.
1. Coat it in white
2. Skin (AC Flesh)
3. Cat Ears, vest, boots (Black paint with a smidge of white blended in)
4. Ribbon (Amethyst with some white blended in)
5. Face- Used a spotter brush to make the eyes. Then a toothpick to add white and draw the mouth.
6. Hair (Dark chocolate milk- lol the names of these paints are silly :3 )
7. Recoloring some areas where I might have painted in wrong. Because erasing is impossible >: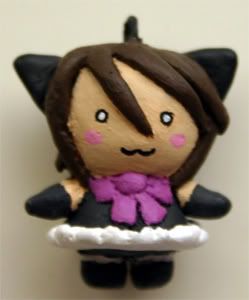 OMG done! Painted quite nicely I do believe. Hohoho.
Fourth:
Make it shine! (Done)
This process was hard. The gloss dried to fast and I couldn't touch it because I could leave permanent finger prints on it. So I had to hold it by the wire on top using tweezers. And let it dry, I hung it underneath my desk with string and and tape. o_o Looked kinda like a hanging…>_> but! It's done!
Alright these pictures sucked. I can't work my mother's camera. There are so many settings >_:
Tools of the trade
——————–
Baking Clay
Wooden Toothpicks
Hair Pin
Acrylic Paint (a whole mess of them)
Various sized Brushes (6 total)
Metal Wire
Wire Cutter
Scissors (for when I lost my wire cutter >: Sawing through metal with scissors >_> )
Oven (lol I cook em.)
Metal Glue
Gloss Glaze
Tweezers (wire bending and unwanted dust removal)
Pencil and Good Eraser (To plot where the face parts will go)
Moe Charm has reached it's completion!
I dunno if I'll do more. It cost me mucho monies to make just this one >: