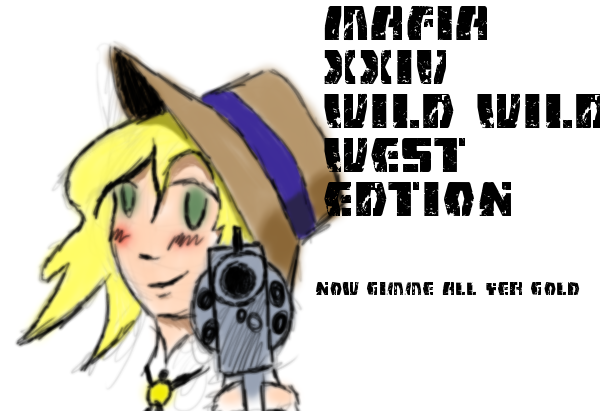 It has been Salsa's good fortune to be elected to the GM position of the XXIV installment of Mafia! Look at all those roman numberials, we're totally gettin' superbowl in here! Hm, has there ever been a superbowl with a cowboy team vs an indian team? In a totally politically correct way? There's an awful lot of teams like that you know! Um, anyway, PLAY MAFIA!



SlideStudios is running a contest! He didn't send me any text, so I'll just copypasta the details from his comic page with all the details (PS his comic is Cubicles!)

Just got my printed Cubicles comics today. Yippie, a whole week early. How friggin awesome is that?

So as promised I am going to run a contest for the chance to win one of these bad boys. Not only am I going to run a contest, but I am going to run 2 contests. Not only are you going to win the comic, but also a sketch of your choice or a print of one of my pre-existing works.

Contest #1 Fan Art
Everyone loves fan art. But I've only ever received one piece of fan art and a cameo for Ost in Salt the Holly. But I'm greedy, so I want more.
So this one is simple draw some Cubicles fan art. I will pick the best and send out a copy of Cubicles along with your choice of a art print or a original sketch of a subject of your choosing. Selection won't only be based on techinical ability. So if you can do some really impressive stick art, you could win.
Just note me with a link to the picture once you've uploaded it.

Contest #2 Tell a Friend
This one is easy also, get a friend to come to my page and leave a comment, mentioning your name. The person who brings in the most people wins. In case of a tie, I will draw the top names from a hat. Winner gets the comic and a sketch or print.

BONUS! I will randomly select one person that enters either contest. They will also win a book and print(sorry no sketches). So, yes, you could smudge some ink on a piece of paper, write Ost on it and you may be a winner. Please don't do that do cause then I would have to hate you.

PRINTS: To see some of the stuff you can get prints of, check out my deviat art sight. The link is on the side of the page. Prints will be 8.5x11 semi-gloss photo paper.

SKETCHES: Will be of a single character of your choosing. Sketch will be on 8.5x11 bristol board. Ink with grayscale coloring or watercolors. Again see my deviant for some samples. No backgrounds.

That's it. Have at it. Lets put a deadline of April 30th at 11:59:59pm
"Despite popular demand,"
Stickman and Cube
by Pieguy 259 has reached a big ol'
325
pages! (That's CCCXXV to you Romans.)
reboundcomic has just posted the
300
th
REBOUND
! He adds, "It is a look at all the main characters in the strip." Should you really put "look at" and "strip" in the same sentence with that comic thumbnail? I don't know, but if this were Rome, his comic would be spelled REBOVND
TV Man
(no conversion to Latin letters necessary?) by Aleks55 has reached
150
pages!
Annnnnnnd…. yep, I think that's all of it!
Oh wait.
AAAAAAAAAAAAAH