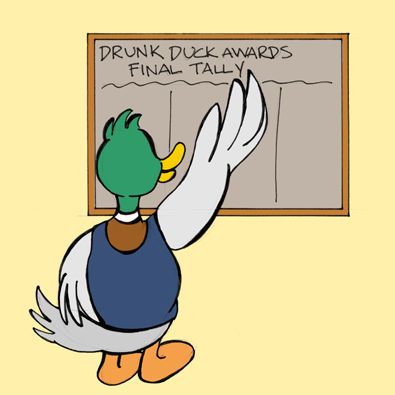 Many thanks to everyone who has submitted votes for their favorite comics over the last six weeks. Also, to all the volunteers, thank so much for stepping up to challenge to be a judge or presenter this year. The response from last week was very admirable and we will need all the help we can get.

The important announcement for this week is that we have a TIE BREAKER ROUND for the awards going on now. A few comics need the extra push to secure their nominations in the BEST FANTASY COMIC, BEST HUMOR COMIC, and BEST ACTION WITHIN A COMIC categories.

Please come and vote to give your favorites the final push.

Click here: https://docs.google.com/forms/d/1r9eYR76hB0sGO9ysvScLqefwBq8RrYoFa_5uTHMMOac/

*You must have a valid DrunkDuck username to cast a vote.

Voting Polls will be open from August 3rd - August 9th.

Your opinion matters. Your vote can be the deciding factor in all of these categories.


.::.
What's Quacking?
Do you have any original art to contribute to our stock image database, announcements, community projects, ideas, news, or milestones to report? Please leave general comments below or send a PQ to kawaiidaigakusei. Email me at kawaiidaigakusei(at)gmail(dot)com.