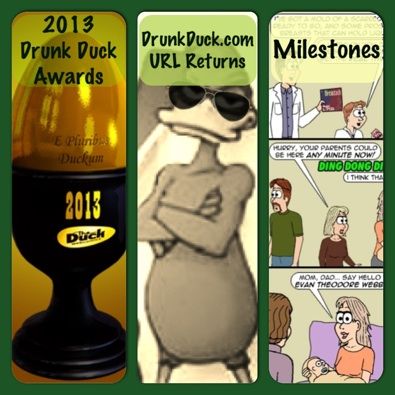 THE RETURN OF DRUNKDUCK.COM
As of last weekend, The Duck Webcomics has finally reacquired the URL for DrunkDuck.com. What this means is that any broken links leading to DrunkDuck.com will automatically redirect to TheDuckWebcomics.com.

This is beneficial for any users that have been unaware the site was back up and running under the new domain. TheDuckWebcomics.com is still the official URL for the site, so if you have already updated links from external sites, then good on you.

DrunkDuck.com still holds sentimental value for any old school users of the site. It was the domain that existed ten years ago when Dylan Squires wanted to name the site after a dead duck. There is a lot of history associated with DrunkDuck.com, so whether you are newcomer to the webcomics scene or celebrating your tenth year anniversary on Drunk Duck, welcome to the Drunk Duck community and welcome home.

2013 DRUNK DUCK AWARDS
The 2013 Awards Show Continues. Find out the Winners!

Best Romance in a Comic presented by Banes

Best Superhero Comic presented by Asbin

Best Anthropomorphic Comic presented by Niccea

Best Pixel/Sprite/Stock Image Comic presented by Niccea

Best Background Art presented by jgib99

MILESTONES


Hats off to PyThomas because his comic story about your average everyday modern woman who happens to have a time machine,Times Like This (rated M), reached 700 pages last Wednesday. Check it out today!
Link: http://theduckwebcomics.com/Times_Like_This/

What's Quacking?
Do you have any announcements, community projects, ideas, news, or milestones to report? Please leave general comments below or send a PQ to kawaiidaigakusei. Email kawaiidaigakusei at kawaiidaigakusei@gmail.com.