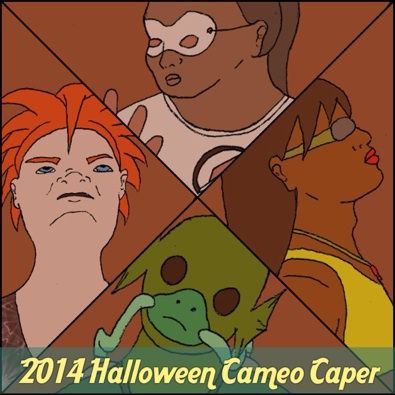 Hogan of the Halloween Cameo Caper has a message to share!

It's time for the annual Halloween Cameo Caper, a little community project which has always had a nice DD-participation over the years, coming to a webcomic near you since 2006!

http://www.theduckwebcomics.com/forum/topic/176162/

What IS the Halloween Cameo Caper?

The Halloween Cameo Caper is an open community project centered around the event of Halloween, a project where you, as an artist, can take part by submitting your characters and get to feature them with all the other participating characters in a chosen setting where they'll all, on the day of Halloween, have a great party together, a party that will spread all through the participating comics!

The voting for this year's setting closes soon, but there's still a chance to get a vote or two in, and then there's the signing up and the actual event!

–




Nepath has started a new comic called "X-Interactive" which is a little comic strip about super heroes.

So the "rules" of this comic are pretty simple.
Each week Nepath will put up a strip that continues the story of the X-Heroes battle to stop the evil Nightmare and will present you, the readers, with an opportunity to determine the path of the story. Hence the Interactive name.

It can be found at www.theduckwebcomics.com/xinteractive

Contact Nepath-
(http://www.theduckwebcomics.com/user/Nepath/)


**Special thanks to shastab24 of Karabear Comics Unlimited for the above graphics.

.::.
What's Quacking?
Do you have any original art to contribute to our stock image database, announcements, community projects, ideas, news, or milestones to report? Please leave general comments below or send a PQ to kawaiidaigakusei. Email me at kawaiidaigakusei(at)gmail(dot)com.