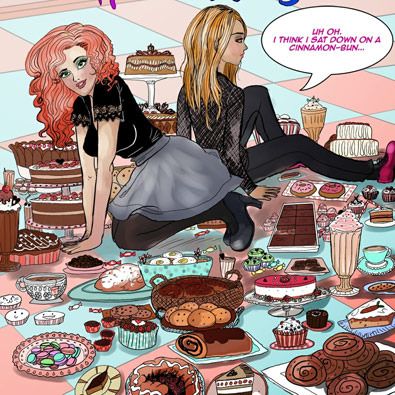 Summary:
Working in Ahiti cafe probably wasn't Haven's dream occupation, but she loves it anyway. She just sort of fell into it after collage and has been stuck there ever since. Her daily routine is a joy. But then along comes Sophie… stroppy, sulky, surly Sophie. She turns haven's life of heaven into hell. Just what exactly is behind all that aggression?
Sweets and Giggles is a comedy graphic novel about interesting unusual people and a very interesting relationship, with lesbian/gay/trans themes. The story and plotting are great! There's a well written arc that does a good job of engaging you emotionally. The art varies a lot and has seen much experimentation in style and colour, but it's seems to be slowly crystallising into something stable. There's stylised reality, digital colour, black and white, sepia and texture.

Read Sweets and Giggles, by Udyr, rated M.