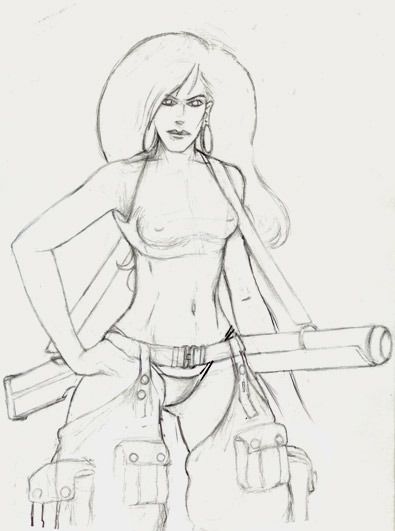 Banes is deathly ill with the canceraids today so I'm having a go at newsposting instead.
So I want to chat about developing a sketch idea… Sometimes it can be a long and twisty road, but it's worth it to see what you end up with. Sticking with an idea, a concept, or a pose can be hard for some, I think for a lot of people if something doesn't work for them they'll toss it out and try something else (which is probably a REALLY good idea), but for those who're silly and obsessive like me we keep going back and back to things till we're fully satisfied that we've beaten the idea fully to death!

So that's really what went on with these sketches here. I started with an idea that I wanted to draw my character Pinky from Pinky TA in a relaxed but ready pose with all her characteristic accoutrements: a good character pic to maybe advertise the comic with or use in a poster or something. But it never quite gelled for me no matter what I did.

It started as a rough pencil sketch in a drawing book which I left for a while. I came back to it and drew in some more detail, but it didn't work for me. So I scanned it and corrected some bits and pieces to see if that'd make me happier about it, but that didn't work either and I had too many other things I was working on at the time to spend any more on a go nowhere project.

The idea of it stuck with me though, and as you can hopefully see from the longer picture at the bottom of this post, I eventually adapted it into something else: It didn't work for Pinky, so she became Cc (another of my characters), with Pinky behind her. In fact it was a chance to draw my friend and Pinky model Bianka AS Cc. Fully digital this time I started from scratch on the pose, did the full body this time, dedicated myself to it, finished it off and gave it a simple colour scheme.
Here - http://ozoneocean.deviantart.com/art/Pinky-and-Cc-285553297

And I was finally happy with what I ended up with…
Although looking at it now, I think I'd still like to go back to the original and finish it of as a Pinky drawing.