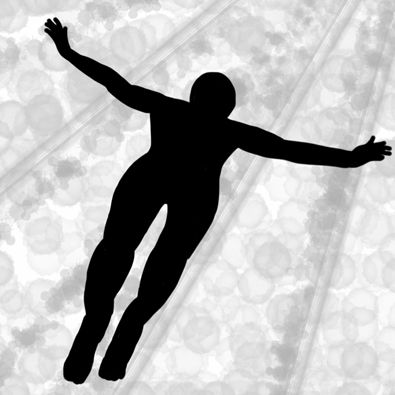 -art by Gunwallace

I enter the gym, change into my running shorts, running top, black socks, running shoes, and with towel and water bottle in hand, find the cleanest looking elliptical trainer and begin zoning out while listening to the fast paced music playing on the speaker. No matter how many times I have started an exercise routine, I have always felt that the first nineteen minutes of any workout are always the most strenuous, uphill, and exhausting moments. When I see the timer hit twelve minutes, I wonder if I am going to finish the entire hour, by sixteen minutes, I break into my first sweat, my heart rate is up, and I feel the need to fill up on water.

All of a sudden, something interesting happens, and the clock reads twenty-two minutes and twenty-two seconds and I no longer feel any fatigue, I just keep running until I get to thirty-three minutes and thirty-three seconds. The remaining forty minutes of the workout is now just a test of stamina and endurance where I get to feel like I am cruising instead of running a painful race. So remember this when starting something new: It might seem troublesome at first, but do not give up because everything gets a little easier after the initial hurdle at the beginning.

I guess the struggle to get over the first major hurdle of nineteen minutes can also be applied to writing a comic story from the start. The first nineteen pages are usually the exposition and a test as to whether a creator can channel enough time and creativity to start writing the dialogue for a story and actually draw a comic. Once the foundation for a story's setting has been laid, the story begins to come together and at times, can feel like it is writing itself.

The 2016 Olympic Games have finally started and to say that the Olympians have inspired me would really be an understatement. Last night I was tuned into the women's swimming competition and watched Hungarian swimmer, Kantinka Hosszu, earn the gold in the 200m individual medley and break world record. Four years ago, Hosszu competed in the London Olympics and left without any medals. She spent post-London in a depressed state barely leaving her room for one month. Finally, her coach told her to get out of her funk and begin training again. I get so awe-inspired when I hear stories of Olympians going through the struggles of overcoming obstacles because it is oh-so-relatable and common to the human experience.

Speaking of the World Olympics, I find the competition to be a very peaceful way for countries to interact with one another. Of all my groups, I find Drunk Duck to be one of the most culturally diverse communities I know because a lot of the members have different nationalities and backgrounds. I wonder if other countries around the globe have their TV stations tuned into Rio and cheering on a game.

Have you ever thought about which sports the characters in your comics would compete in if they entered in the Olympics? (I feel like there would be a fun community drawing project somewhere in there.)



.::.
What's Quacking?
Do you have any original art to contribute to our stock image database, announcements, community projects, ideas, news, or milestones to report? Please leave general comments below or send a PQ to kawaiidaigakusei. Email me at kawaiidaigakusei(at)gmail(dot)com.