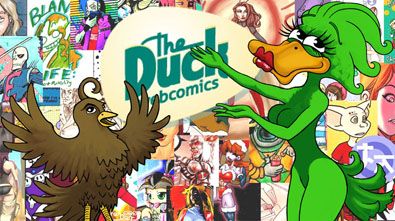 YAY! DD has updated on time with its first range of changes, thanks to our programmer Alexey!
What we have here now are:
1. Comic Statistics: these update once a day at 5am PST (to reduce server load), and show hits on a graph.
2. Comic image links: You can use images in your comic links again without errors!
3. Comic forum posting: This should FINALLY be a bit easier without having to know advanced forum-foo techniques. Browser spellchecks will work, links should work without being mangled. spaces AND line breaks will work without having to insert HTML crappery!
4. PQ notifications - This isn't here yet but I'm told it should come in around about tomorrow. I will stake a bit to code in still.

Please give us ideas for the next round of fixes and features for the site!!!!

And to help us pay for them, please donate here and get yourself some cool things, including your own newspost or original art my Amelius of Charby the Vampirate, or an interview on the Quackcast, or a special Modest Medusa comic and may more things! Or just help us spread the word!
https://www.indiegogo.com/projects/drunk-duck-webcomics-improvement-drive/x/4410947#/

If you've already donated, don't forget to check your spam folder for emails from Indeigogo!