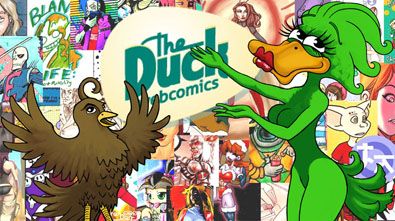 Hi all!

As most of you are probably aware, we are finally in the process of doing some long-overdue fixes to the site. So far we've added stats, PQ notifications and fixed a couple other little bugs. We have been gathering suggestions here on DD as well as on Facebook and Google Plus, but I wanted to put out an official call for suggestions so that everyone will have their voice heard.

Here's how this will work. We've put together a simple survey form that you can use to make suggestions or call attention to bugs that you'd like to see fixed. This will be open until Thursday, February 18th. At that point we will put up a new survey where users can choose which changes/fixes they'd most like to see implemented. I have also created a thread that I will be updating with all of the suggestions that we get for informal discussion.

The survey is here: http://goo.gl/forms/K6vgUqAjmD

And the thread is here: http://www.theduckwebcomics.com/forum/topic/177432/

You can make any suggestion you like, of course, but it's probably best to be realistic. Incremental changes for the better are probably what we're looking at here, not complete overhauls.

And of course, if you want to help make these changes happen, our indiegogo campaign is here: https://www.indiegogo.com/projects/drunk-duck-webcomics-improvement-drive/x/13230659#/

—

Have a comic milestone, a community project or some comic-related news that you'd like to see here? Do you have original art for our newspost image database? Send it to me via PQ or at hippievannews(at)gmail.com, or leave a comment below!