Hiatuses are a necessary evil in the webcomics world, it seems. Most webcomic artists can't devote all their attention to their comic, and will at some point find that life – school, work, or family – gets in the way of regular updates.

In terms of maintaining readership, it's best to avoid hiatuses as much as possible. Online audiences can be fickle, and too many missed updates can mean that a regular reader stops checking in. Some of the most successful webcomic creators are those who seem to be able to keep plugging away at their comic week after week for years on end, rarely missing an update. Of course, building up a buffer can be a big help for allowing small breaks.

But taking a break can also be a positive thing. The worst thing for any artist is for their pet project to turn into a chore, or worse, into something that causes stress. If you feel like your webcomic is just becoming another burden in your life, it might be best to set it aside for a short while so that you can come back to it reinvigorated, rather than quitting altogether when it finally becomes too much.

If you do have to take a hiatus, the best thing to do is to announce it and to be honest with your audience about the length of the break. The saddest thing in the webcomic world is to find one of your favourite comics suddenly abandoned without any note from the author (see Opey the Warhead, and numerous other favourites of mine over the years).

Does it bother you when a comic takes a hiatus? Have you ever taken a break from your comic? Was it beneficial?


An extra fun fact: the idea for this newspost came to me in a (mundane, apparently) dream, albeit in a less coherent form.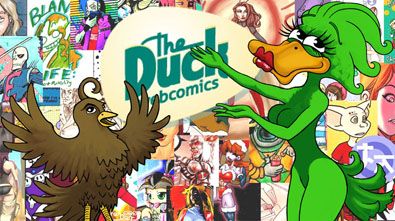 SUPPORT OUR INDIEGOGO CAMPAIGN

I am genuinely super excited about this. We are FINALLY fixing DD now that it is entirely in the hands of the community! All of the money we raise will go to fixing bugs and, eventually, to adding new features.

We have added some new perks since the campaign started, including some classic DD anthology books and custom artwork from several incredible artists.

Support us here: https://www.indiegogo.com/projects/drunk-duck-webcomics-improvement-drive/x/4410947#

—

Have a comic milestone, a community project or some comic-related news that you'd like to see here? Do you have original art for our newspost image database? Send it to me via PQ or at hippievannews(at)gmail.com, or leave a comment below