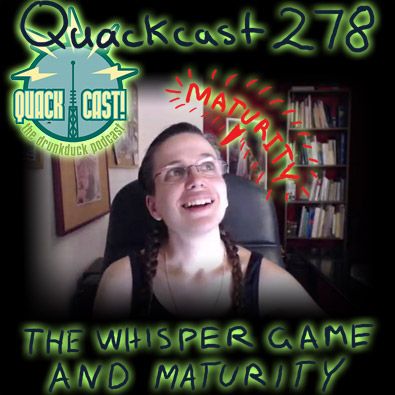 LISTEN!
Art by Ozoneocean

Quackcast 278 is a strange bird! We have TWO things in it! TWO! Not one… but TWO.
First we play the whisper game, inspired by Ms Pitface. So what we did was one of us said something into the camera with the sound down and then everyone else had to guess what we said. Out of all of us Banes was he best. I got ONE right, but as a general rule I was the worst at it. Pit and Tantz were ok… The fun of it was the silly guesses though. It's a great parlour game for your drawing room.
The second part is where we talk about MATURITY. Banes has finally become a man and he shows it by dominating us all. The guy's a beast! Seriously though, there are some interesting lessons about being "mature"… it's not all about that quote "When I was a child, I spoke as a child, I understood as a child, I thought as a child; but when I became a man, I put away childish things"… no, this is more about how you deal with other people, not how you present yourself and what you do with your free time. Plenty of adults don't play with "childish things" but they're less mature than most toddlers. It's an interesting subject!

Gunwallace's theme for Bruno Harm is an appropriate Rockford files style intro for a guy who thinks he's Peter Gunn. Added comedy lines featuring Banes and me!

Topics and shownotes

Featured comic:
The Assassination of Franz Ferdinand - http://www.theduckwebcomics.com/The_Assassination_of_Franz_Ferdinand/

Banes Maturity thread - http://www.theduckwebcomics.com/forum/topic/177527/
Where Pit stole the whisper game - https://youtu.be/McS0tbHUUpk

Special thanks to:
Gunwallace - http://www.virtuallycomics.com
Banes - http://www.theduckwebcomics.com/user/Banes/
Tantz Aerine - http://www.theduckwebcomics.com/Without_Moonlight/
Pit face - http://www.theduckwebcomics.com/user/PIT_FACE/

Featured music:
Bruno Harm - http://www.theduckwebcomics.com/Bruno_Harm/, by Bruno Harm, rated E.