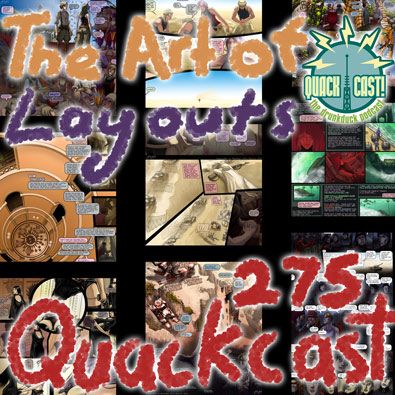 LISTEN!
Art by Ozoneocean

The topic this week was ALL Banes' idea! We talk about page layout: techniques to make a good, readable layout, and stuff to avoid. We have Tantz Aerine (greetings), Banes, and myself, Ozoneocean, chatting about how best to do page layouts, at least from our own limited perspectives. None of us are pros in this regard, but we've been doing comics for many years now and we've all developed some pretty decent ideas about how best to do it, in our own ways. Banes is mostly influenced by American style comics, which have more interesting layouts. Tantz and I were manly influenced by European comics, which tend to have a more conservative by very constantly readable style of "box" layout. On Pinky TA and Bottomless Waitress the majority of my pages are in a fairly standard box format, but every now and again I experiment with crazy shapes, overlapping panels, no panels at all, and even "infinite canvas" pages that work with the scroll function. Speaking of which we briefly mention Scott McCloud and the comic Heart of Keol, which uses vertically scrolling large pages.
The music this week by Gunwallace was Wastelanders Anonymous, an epic classic rock tune with a lovely repeating upward base rhythm, soaring guitars and authoritative keyboard.

Topics and shownotes

Featured comic:
Pluto Bear - http://www.theduckwebcomics.com/Pluto_Bear/

LINKS:
Heart of Keol - http://www.heartofkeol.com/eng/001-01/
Scott McCloud - http://scottmccloud.com/1-webcomics/icst/index.html
Heavy Metal - http://www.heavymetal.com/

Special thanks to:
Gunwallace - http://www.virtuallycomics.com
Banes - http://www.theduckwebcomics.com/user/Banes/
Tantz Aerine - http://www.theduckwebcomics.com/user/Tantz Aerine/
Kawaiidaigakusei - http://www.theduckwebcomics.com/user/kawaiidaigakusei/

Featured music:
Wastelanders Anonymous - http://www.theduckwebcomics.com/Wastelanders_Anonymous/, by Seabiscuit, rated M.