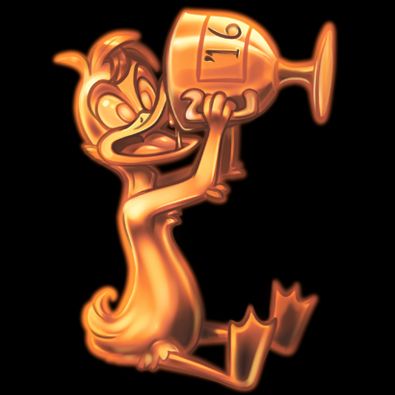 -Amelius of Charby the Vampirate fame!

Please give her a round of gratitude for taking the time to design this year's logo for the Drunk Duck Award. Amelius is a wonderful member of our community and we always appreciate the work she contributes to her own comic and major projects.

Another round of applause goes out to all the artists who contributed potential award designs on the forums. Niccea has used some of the contributions to decorate the Drunk Duck Awards 2016 comic page. Check it out to see how beautifully it is decorated!


THE GREAT ELECTRIC DD MEET UP (Round Two)

The original DD meeting time (Saturday, June 18th) was postponed last week and pushed to this upcoming weekend, (Saturday, June 25th). Just by a show of hands, would anybody be interesting in attending another electronic DD meet up? In any case, mark your calendars and keep Saturday free-ish so you have the opportunity to chat with other ducks, in real-time.

Post about it in the forums: http://www.theduckwebcomics.com/forum/topic/177496/


.::.
What's Quacking?
Do you have any original art to contribute to our stock image database, announcements, community projects, ideas, news, or milestones to report? Please leave general comments below or send a PQ to kawaiidaigakusei. Email me at kawaiidaigakusei(at)gmail(dot)com.