For several years I've been doing a comic called Typical Strange here on the Duck. And I'm still doing it, I swear!

The characters are a fairly diverse assortment of different temperaments and personalities, and the adventures they've had and will continue to have will hopefully be A/Interesting, B/Funny or C/Contain some bit of insight or emotional resonance that might stick with the viewer. I hope for all three.

But I've thought more recently about the ARCS of these characters. Though they may not all have arcs, exactly. But I've thought about what they want, and where they're headed.





Much of what these people are all about has been explained to me by other people. They've told me what's going on with these characters with greater depth than I could have.

If I had to sum up these main characters collectively, I'd say they're all struggling to grow up, and to learn to be real with other people, rather than acting out the defense mechanisms that keep them comfortable. They are (very slowly) learning to be more genuine.

It's me. I realized it's all me.

There's another character/series I've been working with bit by bit for over a year, since creating the guy in HippieVan's Mary Sue exhibit.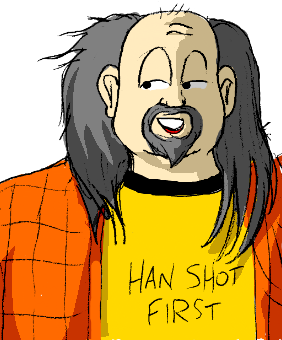 He's a parody Mary Sue-type, for whom everything comes easily, and to whom the world seems to cater. In figuring out a journey for him, and a need that readers could care about, I hit upon the idea that he needs to become VULNERABLE.

He is very capable in his own sphere, but has little ability at intimacy or letting people in. It's the one thing he doesn't jump into wholeheartedly.

That seemed like a good way to take the boredom out of this character.

But more than that…

It's me again!

I haven't been a fan, generally, of some of the "journal" comics I've seen, where the creator has a personal axe to grind and lays it out in their comic.

It seems…I don't know. Indulgent? Whiny? I'm sure there are some good ones out there, and John Lennon himself did quite a few very personal songs that I like. Though even then, I'm not a huge fan of how literally personal some of them are.

Stephen King wrote about his own experiences, being hit by a van, and later sliding down an ice ridge and nearly falling over a cliff in SEVERAL novels. When questioned about it he said those subjects would keep showing up until he worked through them.

Maybe a personal catharsis or "working out one's own issues" has a way of appearing in our writing even when we're not aware of it.

Do you work out your own issues in your comic? Or even better, have you been working them out without even knowing it, until you just now paused to think about it?


In any case, that's what I was pondering today.

See you next "issue"!

-Banes