MAD Magazine shows up once in awhile in our conversations around The Duck. Not a whole lot, but once in awhile. And when someone mentions it as an influence or whatever, there's usually a chorus of Duckers who chime in, expressing their agreement and their love for MAD.

Al Jaffee, a staple (if you will) of MAD was recognized this year by the Guinness Book of World Records as the longest-working cartoonist ever!

At the age of 95, Jaffee has been doing his thing for somewhere around 60 years. Incredible!

Of course, Jaffee's unique contribution to comics was creating the MAD Fold-In. It was (and is!) a parody of "fold outs". An image poses a question, and then the reader folds the page in to see a new image and text.




I loved MAD Magazine; and I also loved the MAD books about Willie Weirdie, a creepy kid featured in collections of mostly single-panel gag cartoons, and the Snappy Answers to Stupid Questions series, also single panel cartoons, which presented facepalmingly dumb questions from some dimbulb character, and usually at least three sarcastic answers from another character. I had several of these books as a kid. They were truly formative…though I'm not sure if that's a good thing…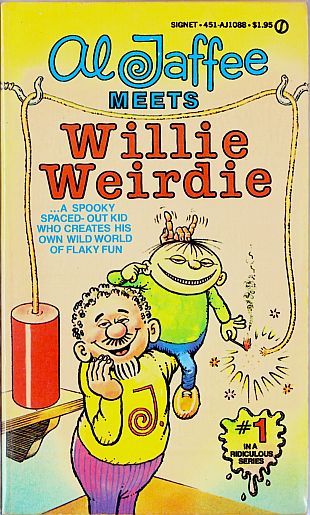 Al Jaffee is still going strong. This video of him discussing his Guinness Records achievement and the Fold Ins put a huge smile on my face.

https://www.youtube.com/watch?v=pK6xE-9sdII

So congratulations to Al Jaffee, still working at MAD!