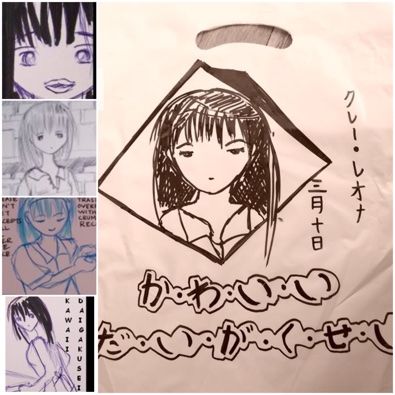 It is sometimes unclear to recollect the exact moment that a comic idea comes to fruition. Sometimes a comic emerges out of ton of quickly drawn doodles over a span of time before any of the characters have names or the story has a title.

I can recall the exact moment that the idea for my webcomic became something more than a series of doodles. I once worked as a cashier at a student store and whenever we were not busy or talking to customers, I would make quick sketches on the back of receipt paper and even plastic bags with a sharpie pen. One day I started writing large hiragana letters under my sketch (Ka-Wa-I-I Da-I-Ga-Ku-Se-I) and the name of my comic and Drunk Duck username was born in an instant.

I still love finding any traces of the old sketches that I managed to draw on receipt paper. They are older relics that are evidence of the evolution of my art style. Old art is proof that my comic has a history and are the original concept drawings before I even had a comic story to tell.

Originally, I did not even imagine that my comic would become a webcomic. The main reason I even ventured into webcomics was because I read a lot of them on a daily basis and some of my biggest heroes and role models were webcomic creators and I thought it would be cool to follow in some of their footsteps.

The beauty of concept art is that it is really a blueprint that a more fleshed out idea or refined drawing does not necessarily have to follow. It is one of my favorite steps because it is the loosest part of the brainstorming process.



.::.
What's Quacking?
Do you have any original art to contribute to our stock image database, announcements, community projects, ideas, news, or milestones to report? Please leave general comments below or send a PQ to kawaiidaigakusei. Email me at kawaiidaigakusei(at)gmail(dot)com.