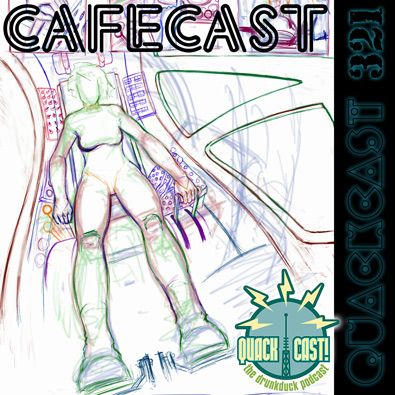 LISTEN!
Art by ozoneocean

We titled this one "Cafecast" on the suggestion of Pitface! Instead of chatting about a subject, we took ourselves off to a metaphorical cafe and all started drawing, working on sketches, our latest comic pages, and chatting as we did. We're all comic artists after all and we talk about doing comic all the time, it's only fair that we actually WORK on them from time to time! Gotta "walk the walk", not just "talk the talk". We were also inspired by the video Pitface made of herself drawing her latest page of Putrid Meat for the 10th anniversary (vid linked in the notes). Watch it while you listen to this!
So this is just a nice, informal chat from us as we draw. Next week we'll get back to more structured stuff when banes and I talk about how to do comedy and how to make comedic characters in comics.

The music for this week by Gunwallace is for Half Hearted Headache. The theme fits very well with the comic title! It brings to mind a desolate wasteland in a post apocalyptic techno future, haunted by cyborgs and the hulks of burnt out military battle robots… Which is not what the comic is about but that's what it paints for me: Jean Michel Jarre, meets knight Rider!

Topics and shownotes

Featured comic:
Scared by the Bell - http://www.theduckwebcomics.com/news/2017/apr/26/featured-comic-scared-by-the-bell/

Pit's drawing vid - https://www.youtube.com/watch?v=ciVOLjSz87Y&t=0s

Special thanks to:
Gunwallace - http://www.virtuallycomics.com
Pitface - http://www.theduckwebcomics.com/user/PIT_FACE/
Tantz Aerine - http://www.theduckwebcomics.com/user/Tantz_Aerine
Banes - http://www.theduckwebcomics.com/user/Banes/
Ozoneocean - http://www.theduckwebcomics.com/user/ozoneocean/

Featured music:
Half Hearted Headache - http://www.theduckwebcomics.com/Half_Hearted_Headache/, by JaysinO, rated M.