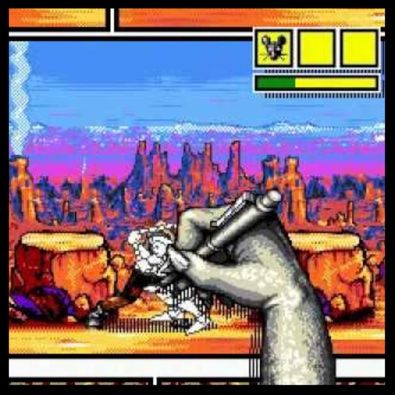 A few weeks ago, I bought a collection of old school video games released for the Sega Genesis. Buried within the game titles was Comix Zone, a game where the comic creator is one of the most important characters in the game because it is responsible for creating the settings and introducing new characters and villains to the page.

The game plays out like a comic book; the story begins on the first panel of a page and in order to move along, the character follows arrows leading into the next panel. All the dialogue is shown in comic bubbles with comic text. The concept is pretty cool and has the low-bit graphics that were common in side scroller games in the 1990s.

I like how the comic creator makes an appearance as a sketchy hand holding a pencil throughout the game. The creator has the ability to hurt or help the protagonist by drawing obstacles on a whim. If you ever come across a copy of Comix Zone, it might behoove you to play it because this game puts the comic creator in the driving seat.

.::.
What's Quacking?
Do you have any original art to contribute to our stock image database, announcements, community projects, ideas, news, or milestones to report? Please leave general comments below or send a PQ to kawaiidaigakusei. Email me at kawaiidaigakusei(at)gmail(dot)com.