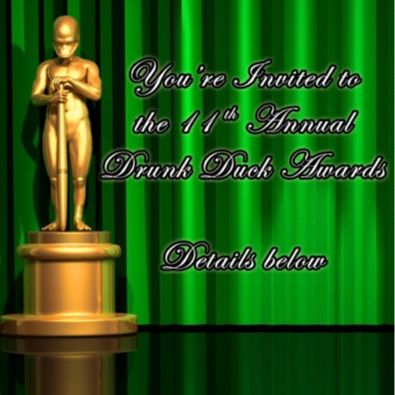 The 2017 Drunk Duck Awards need your help designing this year's trophy.
Rules:
-Designs due June 10th
-Submit to the thread below
-Use white or transparent background if possible
-Have fun
http://www.theduckwebcomics.com/forum/topic/177684/


Also, the awards are accepting For Your Consideration (FYC) comics. This is a simple page telling us what you want your comic to be nominated for. It is a great way to increase readership this time of year. Just PQ your pages to Niccea. You can use previous years for inspiration, but please keep in mind there is no set theme for this year. We are just going to have some laid back fun. Thanks!

http://www.theduckwebcomics.com/Drunk_Duck_Awards_2017/

.::.
What's Quacking?
Do you have any original art to contribute to our stock image database, announcements, community projects, ideas, news, or milestones to report? Please leave general comments below or send a PQ to kawaiidaigakusei. Email me at kawaiidaigakusei(at)gmail(dot)com.