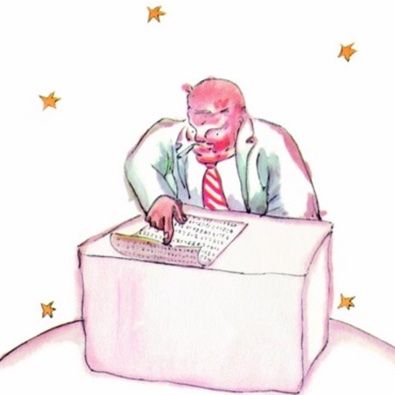 The Businessman, Antoine de Saint-Exupéry, The Little Prince

I have a certain level of disdain for people who believe that comics and art in general are merely hobbies. When I was much younger and on the receiving end of advice from many well-meaning grown-ups, the word "practical" and the phrase "that is not practical" came up very often. I was much more rebellious with a fighting spirit back then, so I would yell back, "the most impractical thing would be if I studied something that was not interesting to me!" I swallowed my pride in my late teens, if pride came in the form of stretching a humble fifteen dollars in my bank account over a week for food to prove to the naysayers that I believed in my choices more than eating their words.

The job market has been very kind over the past year. I have learned that practicality does not necessarily depend on the subject I studied in school (we live in a world with the Internet) but in my work ethic, my ability to work alongside other people, and self-determination that I will show up and get the job done with little to no supervision. The fear of being impractical has been replaced by the fact that I am highly employable. All of these skills were learned through years of fighting for what I believed was right

There will always be certain people who will measure success with a paycheck and will scoff at the idea of doing anything for free. Over the years, I have learned to tune-out the words of the naysayers and have continued my love for art. I know I made the right choice whenever I visit the bookstore and get excited over a new Gardner's Art Throughout the Ages textbook, a how-to book on perspective drawing, or a book on modern art to add to my bookshelf.

.::.
What's Quacking?
Do you have any original art to contribute to our stock image database, announcements, community projects, ideas, news, or milestones to report? Please leave general comments below or send a PQ to kawaiidaigakusei. Email me at kawaiidaigakusei(at)gmail(dot)com.