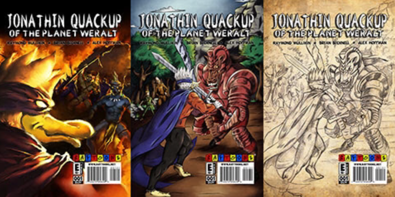 Spread the word to thousands of readers.

Thank you everyone for making QUACKUP #1 a success with over 4 thousand copies released!

I will be sending Quackup #2 to the printers in about a week (May 13) and was checking to see if anyone else wants to advertise before I do.
For the first issue of Quackup, we had a pretty decent circulation through comic shops, online stores, community centers, and schools. The first issue had a print run of 4,000 copies and at least 2,000 copies is planned for the second issue. 

File Format: TIFF, PSD, or PDF at 300 dpi
Payment Type: Payments for ads can be made via PayPal. (Ask me about other payment options.)
Size and Prices: Inches and US dollars.

Download Ad Templates Here
 
Full page - $75 (Color) ,  6.875x10.5 full bleed
Back Cover - $150 (Color)
Inside Back Cover - $100 (Color)
Inside Front Cover - $125 (Color)


.::.
What's Quacking?
Do you have any original art to contribute to our stock image database, announcements, community projects, ideas, news, or milestones to report? Please leave general comments below or send a PQ to kawaiidaigakusei. Email me at kawaiidaigakusei(at)gmail(dot)com.