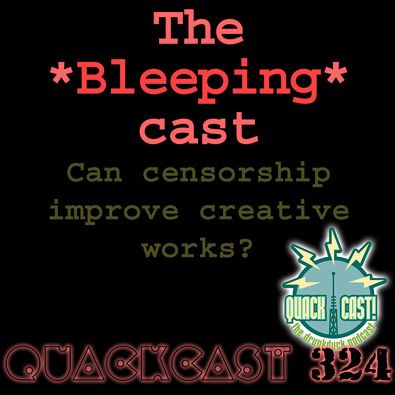 LISTEN!

In this Quackcast we discuss the interesting notion that censorship can actually be a positive force for creation. Sometimes working WITHIN restrictions of censorship can make you more creative and your work a lot more individual, special and more interesting. I came to this subject after reading a review of how Canadian standards forced very specific and particular changes on the TV show Reboot. Had it been made without the censorship restrictions then it would have been more of a generic show, because the methods they had to use to get around or appease the censors helped to differentiate it from similar children's shows.
We also discuss how metaphor in song lyrics and symbolism in art and movies are used to talk about restricted subjects like sex, drugs, politics, and religion and how this is another example of how censorship has given rise to interesting creations. Great examples of obvious coded messages about sex are the song lyrics of AC/DC, Led Zeppelin. We also talk about howl ove songs with secret political messages were used in Greece to foment political revolution.
And lastly we mention Heintai and ecchi in Japanese comics and anime and the Drunkduck ratings standards.

The music for this week by Gunwallace is for Silly Sweetie, it's a dreamlike tour through clouds and wide heavenly vistas, this in turn leaves you feeling warm and refreshed!

Topics and shownotes

Featured comic:
Drachronon - http://www.theduckwebcomics.com/news/2017/may/16/featured-comic-drachronon/

LINKS:
Safe for work porn - https://www.youtube.com/watch?v=OYBySPXg8rs
Songs used in the death camps - http://greece.greekreporter.com/2016/10/07/on-this-day-october-7-1944-the-greek-revolt-at-auschwitz-video/
How censorship changed Reboot - http://reboot.wikia.com/wiki/Broadcast_Standards_and_Practices

Special thanks to:
Gunwallace - http://www.virtuallycomics.com
Banes - http://www.theduckwebcomics.com/user/Banes/
Tantz Aerine - http://www.theduckwebcomics.com/user/Tantz_Aerine
Ozoneocean - http://www.theduckwebcomics.com/user/ozoneocean

Featured music:
Silly Sweetie - http://www.theduckwebcomics.com/Silly_Sweetie_/, by Sillykid, raded E.