Hey guys! Don't forget that the Drunk Duck newsposts now have an RSS feed! Get DD news right in your RSS reader!



Larry has a double announcement! firstly, sucks has reached 50 comics! Congrats! Secondly, Barry Reviews Webcomics ended earlier this week. There's not really an anti-congrats… I am sorry for your loss…? It had a good run!



Yesderday, M. Organ Art by MOrgan reached 500 pages of adult goodness!



On a very merry Christmas Eve Eve (thursday), popvoxmusic posted the 125th comic of Kids With Gas Eat Free!



Sinful by Elanor Pam turned 200 pages last week! (She totally forgot to tell me!)


houseofmuses
Check it out, Wireheads!!! I got a great

review of A Deviant Mind #1

at FanboysoftheUniverse.com!
Like Iron Maiden, I haven't been getting much airplay or advertising, but the series got noticed anyway. :)

A Deviant Mind is also hosted at Drunk Duck at

http://www.drunkduck.com/A_Deviant_Mind/

!
Check out Nergal's
hidden picture challenge
! Each week she chooses a picture, normally of something obscure, in a panel from one of her comics. Whoever finds what page it is located on gets fanart as a prize!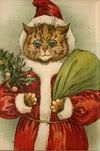 Don't forget to take a gander at the
Secret Santa gifts thread
to see what DDers are drawing one another for the holidays!
I hope everyone has a great holiday whatever they celebrate, even if it's just some time off. There will be new interviews, another Quackcast, and more next week!