We've had lots of news lately! I'm having to up my game a bit! Only a bit, mind you.



subcultured's Dreams in Synergy is available in print!
Dreams in Synergy- Issue 1 at Indyplanet!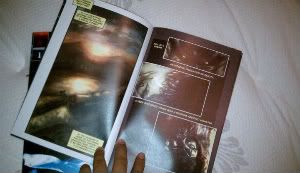 Happy and Tony Adventures, by WTHecksicle has come to an end. IT IS COMPLETE!



The Many Deaths of Mario by raimusxczar hits issue 100 on July 14th! Let's face it, there were some games where my Mario went through more than 100 lives…



Bob the Alien by MetalLuigi (no relation?) "has finally crawled its way up to 75 strips." Crawling? Is that because it has no legs? Is it stranded in the desert? Is it in a contest for babies?



Salsa's Doodles of a Mental Person hits 25 pages on Thursday! (he adds that not including filler, that date is the 17th. But we don't mind about filler here)



God of Destruction by Elanor Pam has reached 250 pages! :D



Aleks55's comic TV Man has reached 200 pages! I keep making announcements for this guy, he's prolific! Good for you, Aleks55!