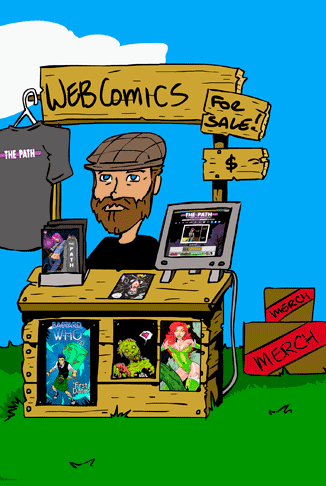 - artwork for this episode courtesy of James Riot! -click to see full size

Joining us this week is the formidable MrRiot, of "The Path", to talk about various profit-making activities, especially his convention experience! We've also got lots of contributing comments from previous guests Amelius and Evil Emperor Nick!
Topics and Show Notes

Listen to QUACKCAST Episode 27 - Build Audience, Work Hard, Profit! Part 2




Featured Comics:
- Death Comes Knocking
- Nocturne 21

Topics Covered:
- Licensing Sites
- Product Placement
- Reader Membership Schemes
- Revenue Sharing
- Popularity and how people come to you
- Platform/Portfolio
- Donations
- Avenue to other profits
- Side Merchandise
- Core Merchandise
- Ad Revenue

Related Links:
- MrRiot on DrunkDuck
- The Path on WEvolt
- Amelius' Charby the Vampirate
- Evil Emperor Nick's Cwen's Quest

NOTE: Due to a hiccup in the recording process, we ended up having to use a lower quality audio track for this week's QuackCast. Apologies if portions of the track are less clear than usual.