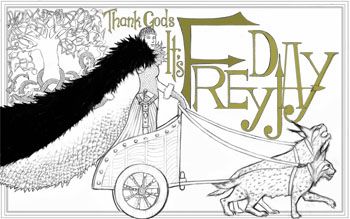 Hello my peoples!
So I've been naughty about the Thorsday posts… I was ill last Thursday and gave this to Skool to post on last Friday, but there was a misunderstanding and she thought I was going to post it… and I couldn't very well post this on THIS Thursday, so I had to wait till today!

BIGGER version here

So here it is: the Goddess Freyja with her magical cloak of hawk feathers, on her chariot pulled by cats, with Yggdrasil in the background with Nidhogg chewing on the roots.
It's a pic I began on my phone (galaxy note 2) and finished on my tablet (Galaxy note 10.1), especially for the people of DD.
We comicers can take inspiration from all around us and it's good to be able to jot it down in a way that's comfortable and convenient for us. In my case I work pretty much 100% digital now so it's fantastic for me to have highend digital art equipment that can travel with me. The initial inspiration for this was Skoolmunkee's bablings on Quackcast 115, A New Order.