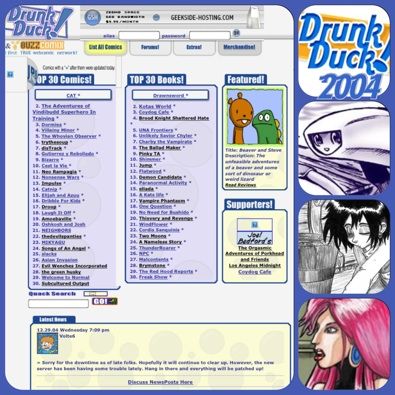 This year marks the 12th Year Anniversary of Drunk Duck, and many original Ducks are hitting the 10th year anniversary mark for their comic. I always think that the early days were before my time so I used the Wayback Machine to see what I missed ten years ago. It turns out that I actually used to read comics on here when it was fused with BuzzComix in 2004! I also learned that there are many users with popular comics still on the site today, updating the original comic or starting new ventures.

Do you remember the old Drunk Duck? Were you there during the first Big Crash? Well since this is a landmark year, I will announce Special 10 Year Anniversary Milestones with a custom banner in future newsposts for any comics that have stayed with DrunkDuck/TheDuckWebcomics through thick and thin, in sickness and in health for the last ten years. Just send me a PQ and I will make an AMAZING shoutout for your comic's tenth anniversary!

NETWORKING & COMMUNITY PROJECTS
Do you have a comic character that fits the profile of a 20-something college student, a police officer, or a first responder? Well usedbooks is looking for permission to use your characters for crowd scenes. Volunteer ASAP because she will begin drawing cameos this week.

Link: http://theduckwebcomics.com/forum/topic/175920/

DRUNK DUCK AWARDS
The 2013 Awards have all been announced and are still wrapping up this week with extras and behind the scenes art. Niccea is still accepting submissions until Friday, January 24.

El Cid writes:

The Extras are basically just silly sketches we throw in along with the rest of the awards show to keep things fun. It can be anything, really: Fan art, a short comic strip, a little mini story, a concession speech, fake advertisements, conspiracy theories, gossip, you name it. As long as it's not something mean about other DD people. I've always felt like the extras and behind-the-scenes are the best part of the awards, but we never seem to get very many submissions.

If you can come up with anything, just go ahead and send it in to Niccea before the deadline.

What's Quacking?
Do you have any announcements, community projects, ideas, news, or milestones to report? Please leave general comments below or send a PQ to kawaiidaigakusei. Email kawaiidaigakusei at kawaiidaigakusei@gmail.com.