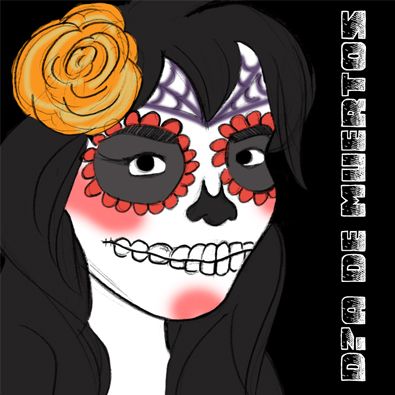 Living in Southern California makes me no stranger to to the Mexican holiday of Día de Muertos, otherwise known as Day of the Dead. However, I had never experienced one before and lucky for me, when the opportunity arose this weekend I jumped at the chance.

I decided to dress up in la calavera Catrina makeup because there are so many comic-like illustrations of Day of the Dead skeletons that covering my entire face with makeup would be the closest thing to cartoonifying my face in real life. I had my mind set to have a fun time!

As soon as I arrived at the scene, the mood hit a somber note as I saw all the altars of relatives who have passed away this year were displayed on tables. Each memorial had a few objects that were the deceased favorite possessions while alive. I wondered which objects could be used as a symbol of my time on earth and I thought a scanner, pen tablet, and desktop computer would probably be a pretty safe bet.

There were dances going accompanied by a live band on that reminded me of the creepy satanic goat from Pan's Labyrinth, which I loved. Also in true Ray Bradbury's Halloween Tree fashion, I saw sugar candy skulls on display along with saffron colored Mexican marigolds to honor the dead. But, I think what resonated with me the most were the rows of cars that had altars displayed in front of them of the departed.

The experience allowed me to experience how another culture deals with the taboo subject of death and to experience it in a humorous and fancy way.

Live life, have fun, and draw webcomics!

.::.
What's Quacking?
Do you have any original art to contribute to our stock image database, announcements, community projects, ideas, news, or milestones to report? Please leave general comments below or send a PQ to kawaiidaigakusei. Email me at kawaiidaigakusei(at)gmail(dot)com.