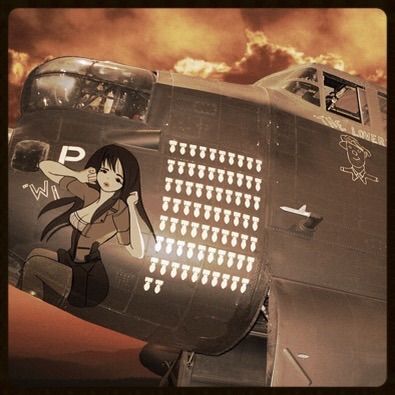 It is difficult to imagine a greater canvas than the nose of an aircraft to display art. I love to visit aviation museums to look at each individual plane, but one part I always like to pay special attention to is the art displayed near the front of the plane. I always wondered why certain types of insignia were used. Some displayed names that were usually feminine, some had cartoons, and others just had a smiling pin-up model. Were the pin-ups based on a celebrity? A girl-next-door back at home? A dream girl? Or was it just used as a symbol of Lady Luck, just like a modern version of Nike, the winged goddess of victory. It turns out that the pin-up served as all of the above.

Nose art was used as a visual call sign to signal which plane crews made it back to the base. It also gave the plane its own personality. It served an important purpose in boosting the morale of the men in combat. When faced with the possibility of death on a day-to-day basis during any number of missions, the pin-up was somewhat of a welcome distraction to focus on and think about something else. Aircraft art was typically created by anonymous artists and regarded as graffiti since it was not regulated and several unapproved designs were allowed.

Today, aircraft pin-up art is not seen as often as during its Golden Age during World War II and the Korean War. Certain restrictions have been placed that prohibit the use of nose art on military planes, however, the tradition of aircraft art can be seen in the present day on the plane tails of commercial airliners.

Discussion Question:
If you were given the chance to decorate a blank aircraft nose with any work of art, what would you design?


MILESTONE




Annie2495 just wanted to let everybody know that her comic, Hack Girl, will hit one hundred pages this week! Conveniently, it will also be the end of Issue 2 so it's a good time to catch up. She will do her best to update every Friday.

Read Hack Girl by Annie2495 on The Duck today!


2014 DRUNK DUCK AWARDS





Today is the first day of the second week of Drunk Duck Awards Presentations. Come and join the celebration of this great online community. Find out today's winners!!

Link: http://www.theduckwebcomics.com/Drunk_Duck_Awards_2014/

.::.
What's Quacking?
Do you have any original art to contribute to our stock image database, announcements, community projects, ideas, news, or milestones to report? Please leave general comments below or send a PQ to kawaiidaigakusei. Email me at kawaiidaigakusei(at)gmail(dot)com.