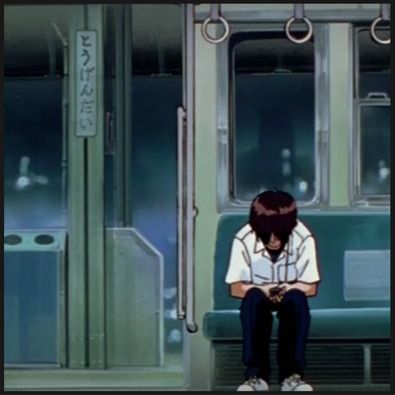 It seems that I get into a very opinionated argument whenever the topic of discussion veers toward Neon Genesis Evangelion. Usually it is about how the Evangelion movies are awesome and how the main character is not so awesome. That being said, it has been twenty years since the mid-1990s animated series initially debuted and 2015 is a pretty significant year on the show, so I must write about Evangelion before the year ends.

I am about to take a pretty unpopular stance that has been the subject of many controversial discussions on the Internet. I do not share the same level of dislike for Shinji Ikari of many Eva fans, in fact, I find that he is one of the most relatable characters written (at least he was relatable when I originally watched the series as a teenager with a healthy level of angst).

Conversations of Evangelion usually go like this:

"Have you ever watched Neon Genesis Evangelion?"
"Yeah, I like the series but I can not stand Shinji."
"Why not?"
"Because Shinji is a little (expletive). You know what? (Expletive) Shinji. He is so (expletive) annoying."
"Oh, I never thought he was that bad."

Why does Shinji's character have one of the most polarizing personality types that fans either have a love 'em or hate 'em attitude whenever his name is mentioned?

There were many scenes in Evangelion that resonated on a very positive note when I was watching the series. A few that come to mind: a scene at a train station where Shinji intentionally decides to miss his train at the last minute because he feels that he is already home; a late night train ride where he listens to the same song on repeat with his Walkman after he runs away from home and has to sleep in a movie theater; and the uncomfortable relationship dynamic that he has with his estranged father all gave him real human qualities. My favourite parts of Eva were the scenes with minimal dialogue while Shinji listened to his music with his headphones or shots of distant sunsets and telephone poles. Those scenes captured a feeling of loneliness and introspection in a way not typically addressed in animation.

It makes me wonder if I watched the same series whenever I hear negative complaints about Shinji. I can see why people do not like his character because he acts weak, has issues with not wanting to run away, he deals with severe Oedipus complex issues from his childhood, and he gets over-emotional. Still, it is the isolation and extreme expressions of sad emotions that make his character pretty relatable.

Dealing with a polarizing character can really make or break a story because viewers can base their entire opinion on a single character. I have only watched the entire series of Evangelion once in the last decade. It may have been a conscious choice because I was left distraught with an empty box of tissues the first time through. I might need to revisit it after writing this article to see if my opinion of Shinji has changed in that time.


.::.
What's Quacking?
Do you have any original art to contribute to our stock image database, announcements, community projects, ideas, news, or milestones to report? Please leave general comments below or send a PQ to kawaiidaigakusei. Email me at kawaiidaigakusei(at)gmail(dot)com.