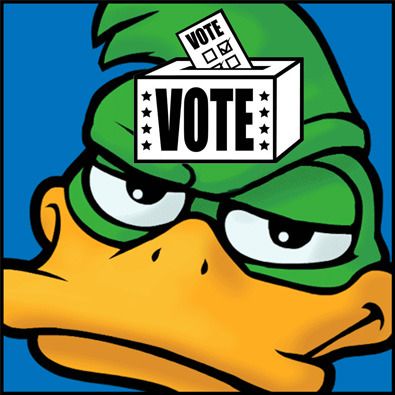 ========
IMPORTANT:

Server down time. DD will be down for an hour or two in the early hours of Wednesday morning (PST time). We're switching down to a cheaper hosting package to try and save money on the hosting bills.
We tried to do it on Saturday but there was a stumbling block. Hopefully that us overcome now and we can go ahead!
========


Voting is now open for the awards!

You can vote here.

Link: https://docs.google.com/forms/d/1XBSpVRkJO8YfjfKGCeCi4kcr4uruiKbaN2Wf2iPzCTQ/

Ballot will be open from 7/5/2015 until 8/2/2015.

~One ballot per person. (Must have a valid Drunk Duck Account)
~No voting for yourself. (That means comics you work on)
~Drunk Duck hosted (or mirrored) comics only.
~Comics must be actively updating (last update June or later) or completed within the last year.
~You may enter a comic in more than one category (however, don't enter it for all categories.)
~You don't have to fill out every category.
~ After you are done please swing by our Awards Forum on Drunk Duck to find out about volunteering.
~ Email niccea (at) gmail (dot) com any questions/comments/concerns.


Also, it is still not too late to put up an FYC. For Your Consideration pages will be accepted until July 12th.

Volunteer sign ups have been added here.

Link: http://www.theduckwebcomics.com/forum/topic/176963/



.::.
What's Quacking?
Do you have any original art to contribute to our stock image database, announcements, community projects, ideas, news, or milestones to report? Please leave general comments below or send a PQ to kawaiidaigakusei. Email me at kawaiidaigakusei(at)gmail(dot)com.