I promised a follow up to how I do digital drawing specifically, not in general!
(Original article on digital drawing - http://www.theduckwebcomics.com/news/2016/dec/08/digital-drawing/)
Well, here's an example, it's not a great one, but I did it yesterday so it's nice and fresh.
I drew this on a Samsung Note 10.1 tablet, it's an old model, I think about 2012- Long in the tooth now, but still OK for drawing.
The drawing app I use is Sketchbook Pro, by Autodesk. I like this tablet because it has Wacom digitiser tech embedded, so you have pressure sensitivity, accuracy, and no need to charge your stylus.
The first stage of my process is to zoom in on a corner of my "canvas" and do a very rough thumbnail sketch of what I want to draw. In this case a Santa duck.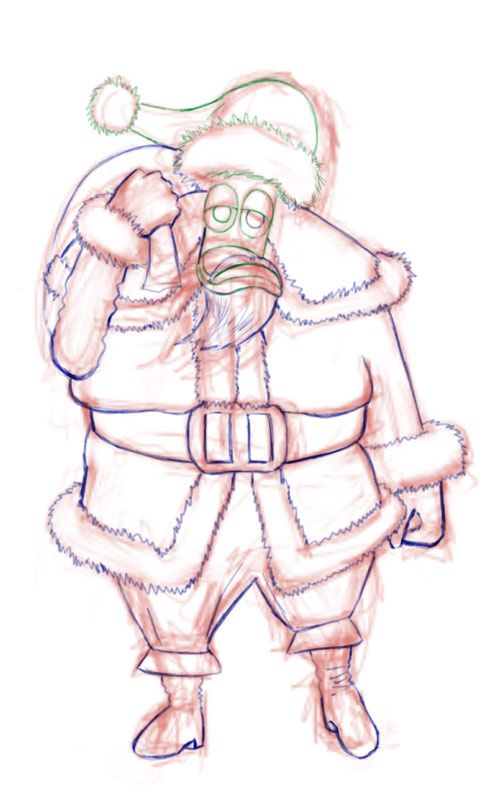 The second stage is to enlarge that small thumbnail to the final size I'd want to draw it at. I reduce the opacity of that layer so the image is much lighter. I make a new layer and I start drawing on that over the TOP of the rough thumbnail.
I use different colours when I do line drawings so that it's easier to differentiate different bits of detail- If you sketch a lot of lines the art can become an indecipherable mess so colours make it easier to distinguish lines. This means you don't have to erase as much- just keep drawing over with a different colour. You can't do that with physical media as easily because colours mix and there's only so many times you can draw over something.




3rd I hide the rough layer, then erase all the mess and tighten up my line work to get the look that I want. I set the layer type to "multiply": This means that all light areas in the drawing become transparent which makes it easy to make a coloured layer underneath and have nice subtle line work above it. Because my lines are coloured and light they blend with my coloured art in an interesting way.




4th I make a new layer underneath my linework and just go crazy with colour. Sketchbook Pro has a lot of options for different "brushes" and you can set effects for them like opacity, scattering, size etc so you can get the effects you want with the right amount of tweaking.
For all of the effects here I used a "splatter" brush. I just kept changing its properties for what I needed. This stage is just a process of colouring within the lines, using darker tones to fill up the spaces and then lighter colours to add highlights.




5th Finally I added he "snow" and some other little effects like the shine on the belt buckle on a new layer (on top of the line work this time). The snow is just the same splatter brush, increased in size and scatter distance with its "softness" removed.
It's certainly not one of my best pics, but it's a good illustration of the technique.