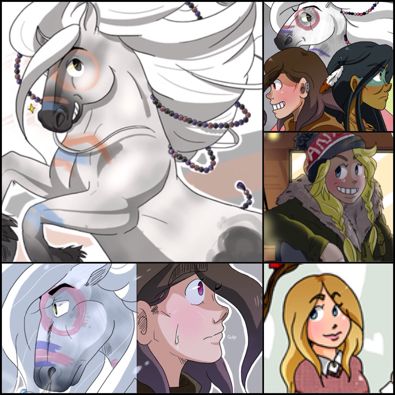 Ashtree house hails from the Great White North as one of Drunk Duck's Canadian ducks. She is best known on the site for creating the webcomic Steel and Manitou, which was featured nearly one year ago on February 18, 2015. Steel and Manitou tells the tale of a young girl named Kassidy Kerr, who is raised by a traveling troupe of performers. The tale draws inspiration from the Cree, Ojibwe, and Assiniboine peoples and has a Western theme.

A master at drawing digital line art and coloring, ashtree house's art always has that very clean inking lines and a very professional feel.

Ashtree house has a penchant for running, rabbits, and drawing spirit animals in the form of a white horse.

Please check out ashtree house's awesome comic on Drunk Duck!



Steel and Manitou

"Kassidy Kerr is an actress in a traveling troupe of performers who journey across the notorious and dangerous 'Outlands'. One day, Kassidy meets a horse spirit (even though she says she does not believe in such things.) On that same day her beloved mentor and friend; a Nehiyaw woman named Vox, is brutally murdered. Are the two connected? If Kassidy wants to finds out, she might have to take a little break from show biz… Loosely based on oral traditions from Cree, Ojibwe, and Assiniboine peoples. Western/Fantasy/Adventure and some romance. Rated teen (blood, violence, mild language) Updates weekly."

Additional links to support ashtree house's work:

Smack Jeeves: http://steelandmanitou.smackjeeves.com/

Vote in the Top Web Comics: http://topwebcomics.com/vote/19116/default.aspx

Webcomic List: http://www.thewebcomiclist.com/p/26242/Steel-Manitou

Deviantart: http://ashtee-house.deviantart.com/

Instagram: http://instagram.com/ashtreehouse/




DRUNK DUCK IMPROVEMENT DRIVE INDIEGOGO CAMPAIGN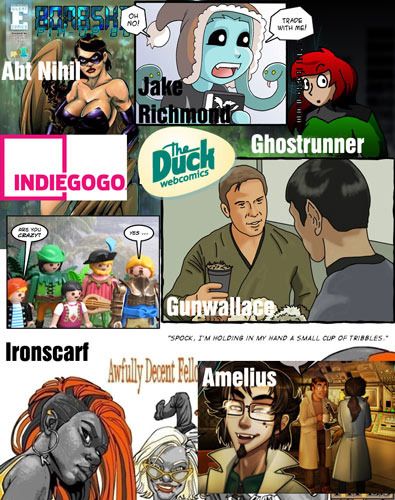 Donate to the Drunk Duck Indiegogo campaign!

Did you know that Drunk Duck is currently having a crowdfunding campaign through Indiegogo? All the proceeds from the donations are going to go directly back into this site through upgraded programming and a return of favorite features.


Thank you, so very much to all the generous donations we have received so far from this lovely group of benefactors:

Banes,Call Me Tom, QSAMA, Skullbie, El Cid, Jake Richmond, Miruku, usedbooks, alejkhan, PaulEberhartd, Darwin, ashtree house, Gunwallace, KimLuster, maskdt, Whirlwynd, Abt_Nihil, HippieVan, ghostrunner, kawaiidaigakusei, Genejoke, Hayakain, darrell, jgib99, irrevenant, Schlonz, strixvanallen, UltimateZ, Coydog, VinoMas, matuliox, Yann, Zacheriah, ThePandoraProject




A very special THANK YOU for all the perk contributions through time and art talents from these wonderful people:

Amelius, Black Kitty, ironhand, Gunwallace, Tantz Aerine, fallopiancrusader, alejkhan, PaulEberhartd, Jake Richmond, usedbooks, HippieVan, Banes, Whirlwynd, ozoneocean

Please let me know if you do not see your name on this list, I will happily add you!


Donate to the Drunk Duck Indiegogo campaign!

.::.
What's Quacking?
Do you have any original art to contribute to our stock image database, announcements, community projects, ideas, news, or milestones to report? Please leave general comments below or send a PQ to kawaiidaigakusei. Email me at kawaiidaigakusei(at)gmail(dot)com.