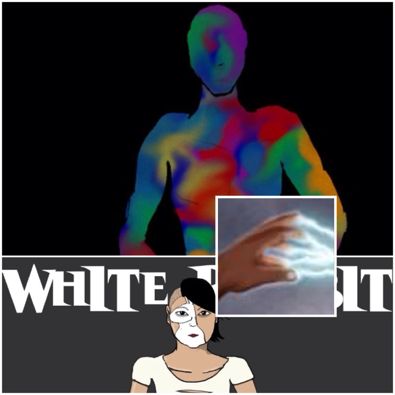 While still reeling in from the Oscar buzz last night, it was nice to see Leonardo DiCaprio finally receive an Academy Award for his role in The Revenant. An award is an award and still deserved no matter how many years it takes to earn it. However, here on Drunk Duck, our very own user irrevenant has been a member of the site for over NINE years and has been contributing to the community since then. So, move over DiCaprio, we have another irREVENANT in town.

Irrevenant is best known for his work on the original comic Tales of the Unpredictable Chaos. Where his main character, Chaos, is known for wearing a multi-colored stretch suit that looks psychedelic. Another notable character is the White Rabbit who has the silhouette of a rabbit drawn across her face. The comic is still in its early stages, but it seems to have an entire story planned from its planning stages.

Around the site, irrevenant is a moderator on the forums and he helps out mostly in the Heroes Alliance sub-forums. He is very much involved in Abt_Nihil's Heroes Alliance community project for the last couple of years. In addition, irrevenant also participates in other Drunk Duck community projects like the 2015 Secret Santa gift exchange.

Thank you, irrevenant!

Please check out irrevenant's awesome comic on Drunk Duck!




Tales of the Unpredictable Chaos

"A comic about a street-level hero called Chaos. To be updated irregularly."




Heroes Alliance Monthly Mayhem

"A collection of entries for Heroes Alliance's monthly challenges. Hosted by Macattack (assisted by irrevenant)!"



MILESTONE




The KAMics should have page 1600 up on Monday, February 29!

Link: http://www.theduckwebcomics.com/The_KAMics/


DRUNK DUCK IMPROVEMENT DRIVE INDIEGOGO CAMPAIGN

Donate to the Drunk Duck Indiegogo campaign!

Did you know that Drunk Duck is currently having a crowdfunding campaign through Indiegogo? All the proceeds from the donations are going to go directly back into this site through upgraded programming and a return of favorite features.


Thank you, so very much to all the generous donations we have received so far from this lovely group of benefactors:

Banes,Call Me Tom, QSAMA, Skullbie, El Cid, Jake Richmond, Miruku, usedbooks, alejkhan, PaulEberhartd, Darwin, ashtree house, Gunwallace, KimLuster, maskdt, Whirlwynd, Abt_Nihil, HippieVan, ghostrunner, kawaiidaigakusei, Genejoke, Hayakain, darrell, jgib99, irrevenant, Schlonz, strixvanallen, UltimateZ, Coydog, VinoMas, matuliox, Yann, Zacheriah, ThePandoraProject, Z74, jerrie, marscaleb

A very special THANK YOU for all the perk contributions through time and art talents from these wonderful people:

Amelius, Black Kitty, ironhand, Gunwallace, Tantz Aerine, fallopiancrusader, alejkhan, PaulEberhartd, Jake Richmond, usedbooks, HippieVan, Banes, Whirlwynd, ozoneocean

Please let me know if you do not see your name on this list, I will happily add you!


Donate to the Drunk Duck Indiegogo campaign!



.::.
What's Quacking?
Do you have any original art to contribute to our stock image database, announcements, community projects, ideas, news, or milestones to report? Please leave general comments below or send a PQ to http://www.theduckwebcomics.com/quack/compos
ng–comics have the ability to transcend all ages, walks of life, eccentricities, and unique individuals. It can be used as a tool to find common ground between two strangers from different backgrounds. This experience reaffirmed the reason that I have been spending so much time working with comics.