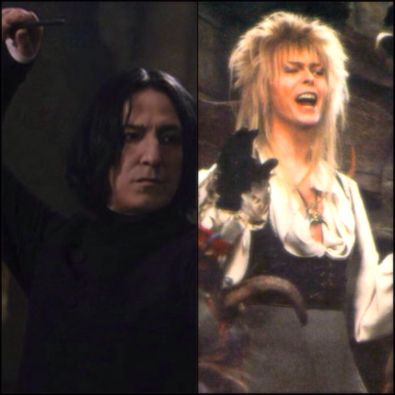 Last week marked the loss of two actors who brought my favorite fantasy villains from childhood films to life.

I was only a baby when Jim Henson's musical fantasy film, Labyrinth, was released in theaters. The fact that there were once home videos of me singing along to "(Dance) Magic Dance" or mimicking several scenes from that movie (such as Sarah's "You have no power over me" monologue; basing my entire high school prom dress off the ballroom scene; and pretending to handle glass orbs with as much skill as Jareth) is a telling sign of how deeply ingrained it was to my upbringing.

It is for these reasons that I was very saddened when I heard the news of David Bowie's passing last week on a forum post by resident Drunk Duck user, Genejoke. His death resonated with a much younger version of myself because he portrayed a fictional character that introduced me to a spectrum of life lessons from love to fear to standing up against an authority figure to growing up.

Four days later, while still coming to terms with David Bowie's death, the other shoe dropped when I received a message that "Snape had died".

Anyone unfamiliar with the Harry Potter universe should know that Alan Rickman played Professor Snape, a very prominent character in the Harry Potter films, that I believe should be the main character in an entire prequel series devoted to Severus Snape.

Both David Bowie and Alan Rickman are going to be missed by the awesome mass of fans who grew up following their careers.


UPCOMING SITE IMPROVEMENTS TO DRUNK DUCK

Word around the duck pond is that site improvements are on the Drunk Duck agenda.

Some of these improvements will definitely include:
-adding stats to the site again
-notifications for PQs
-fixing the comic links

What other bug fixes urgently need addressing? Please leave your suggestions in the comment section down below.



.::.
What's Quacking?
Do you have any original art to contribute to our stock image database, announcements, community projects, ideas, news, or milestones to report? Please leave general comments below or send a PQ to kawaiidaigakusei. Email me at kawaiidaigakusei(at)gmail(dot)com.