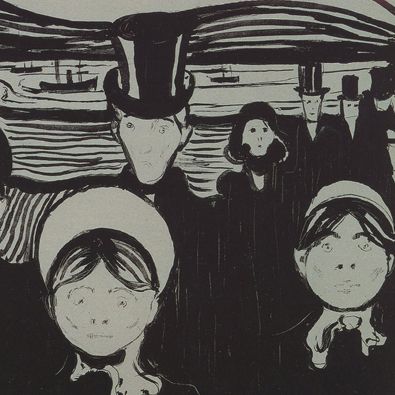 -Art by Edvard Munch (cover for Hunger by Knut Hamsun)

It is a common phrase that has been repeated time and time again: "(The love of) money is the root of all evil". At least for me, it was one of the few words to live by that my Latin teacher liked to reiterate at the end of each class. I have never been a fan of money, and when I imagine a person who loves money so much, I picture Scrooge McDuck diving into his giant pool of gold coins and taking a swim.

One does not need to travel far to meet people who love money. Just the other day, the topic of money entered an otherwise pleasant conversation while dining at a fancy restaurant with a couple of grown-ups. It all started with how many figures someone's daughter makes and how I should be striving to aim for a similar wage bracket. It was a pretty boring topic of conversation that concluded with me saying, "I am NOT Money-Centric!" And that ended the discussion from my end.

Money is an intangible concept that I have been trying to wrap my mind around. It comes in many forms such as metal, paper, and most commonly a digital number. I have observed an obsession with the acquisition of money that I fail to understand. I see money as an exchange of one hour of your life (a commodity of time that you will never ever, ever get back) for a digital number that can be used for an even more fun experience sometime in the future.

The Starving Artist archetype is true for the most part. There have been times in my adult life where I had to make ten dollars last an entire week for food because I was too proud to give up my creative pursuits. I believe Knut Hamsun's novel Hunger gives a much more in-depth description of starving from the perspective a Danish writer. Ever since I have traded the goal of landing my "Dream Job" in exchange for having A job, I have been successful at acquiring jobs.

I have compiled a list of workplace necessities in order to keep my sanity and avoid the burnout of the daily grind.

1. Does your job make YOU happy?
2. How happy do you feel before/during/after work?
3. Is your work meaningful and make a difference for other people?
4. How is the view?
5. Do you mesh well with most of your coworkers' personalities?
6. Is your job considered "work" or do you see it as an opportunity for new experiences?
7. Does your job utilize your strengths?

The main point I am trying to stress is that being happy at work is the most important requirement for me right now. Having a gorgeous view is also important because I would much rather stare at a pretty mountain range during sunrise or sunset than sit in a dim room with the blinds down all day. The idea that my job requirements take general well-being and quality aesthetics into consideration probably started from my love of creativity, beauty, and enjoying the details.

I opt to prioritize my well-being over any job with a large cash flow that makes me miserable, but I suppose that goes part and parcel with not being money-centric.


.::.
What's Quacking?
Do you have any original art to contribute to our stock image database, announcements, community projects, ideas, news, or milestones to report? Please leave general comments below or send a PQ to kawaiidaigakusei. Email me at kawaiidaigakusei(at)gmail(dot)com.