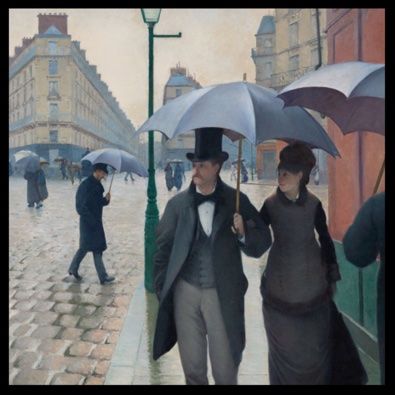 Paris Street; Rainy Day, Gustave Caillebotte, The Art Institute of Chicago

In less than twenty-four hours I am going to board a plane and end up in the city of my childhood. I am returning to the Windy City because it is Spring Break and because I yearn to have a Marcel Proustian experience of all the familiar places, tastes, and scents from the times of my youth. In honor of this trip, I am going to write about early experiences involving art that have left a lasting impact for years to come.

The story begins in the early nineties when I was not exactly a lover of art. As a matter of fact, it would appear from my early years that my love of the arts grew after a Stockholm Syndrome sort of relationship. I attended a classical elementary school in Chicago that incorporated Latin into the curriculum and an exposure to the art world made possible by frequent trips to the Art Institute. Living in a major city has its advantages when stressing the importance of the arts.

Unfortunately, a trip to the museum (similar to a trip to Orchestra Hall) meant no talking, no playing, and having to walk around for hours while a curator spoke about random pieces of art. The permission slip labeled "Art Institute" would let out a resigned sigh from many of my grade school classmates.

It was not until years later when I was sitting in a modern Art History lecture that I was wholeheartedly thankful for the opportunity presented to me in my youth. I was able to appreciate impressionism by Monet and Gustave Caillebotte, Georges Seurat's pointillism, and ready-mades by Marcel Duchamp up close and in person in real life, which is always way cooler than a slide image.

The emphasis in the study of arts in my formative years made a lasting impression on me that I carried into adulthood. I believe it is important to teach youngsters about art by taking trips to museums even if it seems boring at first.

.::.
What's Quacking?
Do you have any original art to contribute to our stock image database, announcements, community projects, ideas, news, or milestones to report? Please leave general comments below or send a PQ to kawaiidaigakusei. Email me at kawaiidaigakusei(at)gmail(dot)com.