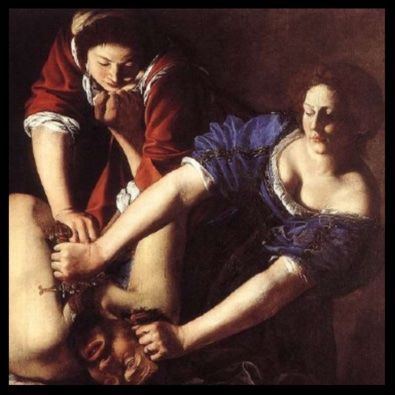 Artemisia Gentileschi, Judith beheading Holofernes, 1611-12, oil on canvas, (Museo Nazionale di Capodimonte, Naples)

There are several different ways to read a painting. The perspective of the reader adds a new insight to the history behind the art. For the purpose of this article, I have selected Judith beheading Holofernes by Artemisia Gentileschi to demonstrate three different ways to read a painting because this work can be read various ways.

A formalist reading would first point out the tools used to create this art: Oil paint on canvas. A chiaroscuro technique of dark shading has been used. Chiaroscuro originated in the late Renaissance and carried over into the Baroque period because of its popularity. The main colors in the painting are blue and red.


A social approach would point out the empowered female subject matter may be directly related to the fact that the artist is also a female. Artemisia Gentileschi is one of the most known female painters from the Baroque period at a time that it was difficult for women to get recognition in the arts. Judith is wearing blue, which may be significant because it is comparing her to the Virgin Mary. The subject matter in the painting is found in the Old Testament, which shows the impact religion had on Europe art in the early 1600s.

The psychoanalytic approach developed after Sigmund Freud introduced his theory of psychoanalysis in the early 1900s. In this case study of the painting of Judith and Holofernes, the focus shifts toward the sword in Judith's hand. The act of beheading can be seen as a type of castration showing the dominance the woman has over the man.


All three readings are related to the artwork, they are just seen from different perspectives. An interesting exercise to try out the next time you read through a comic's archive would be to see how it can be read through a formal, social, or psychoanalytic method.


.::.
What's Quacking?
Do you have any original art to contribute to our stock image database, announcements, community projects, ideas, news, or milestones to report? Please leave general comments below or send a PQ to kawaiidaigakusei. Email me at kawaiidaigakusei(at)gmail(dot)com.